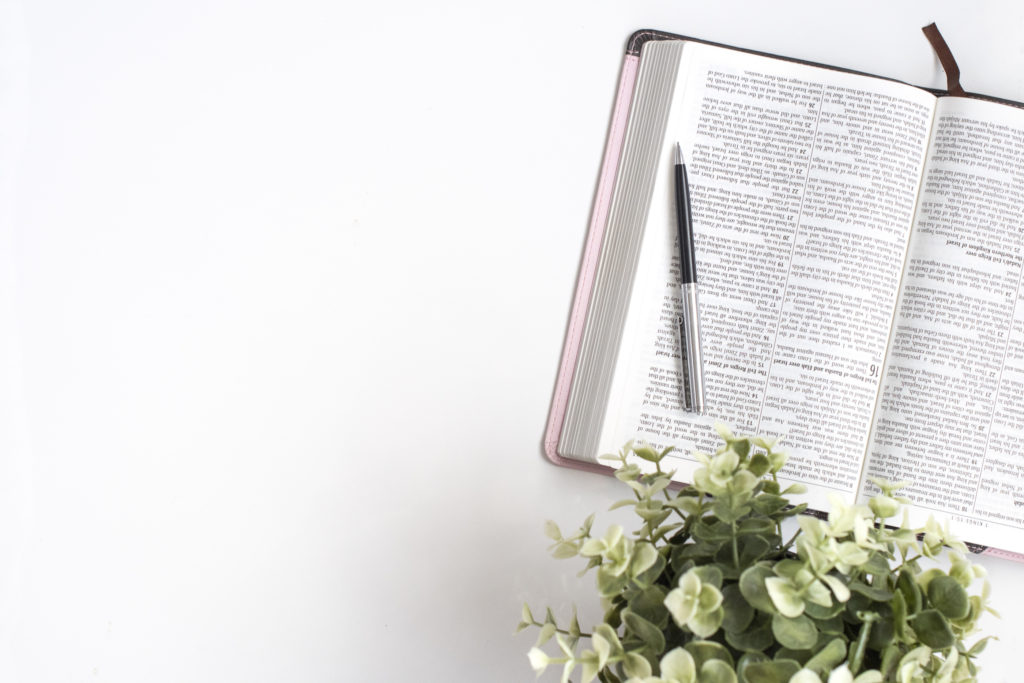 If you struggle with anxiety or fear, you are not alone.
Though we have Jesus living within us, Christians are not immune to the struggles of our fallen world. Anxiety, depression, suffering, and fear are things all humans struggle with. Some struggle more or less than others. Some face adversity more or less than others.
Some of us have more anxious temperaments or grew up in environments that did not make us feel safe. There are all sorts of reasons we might feel anxious or fearful.
But those who are living for Jesus do have something special to help us through though: the truth of God's Word and the indwelling of the Holy Spirit.
Often anxiety and fear are intertwined. Things that make us afraid also make us anxious, and sources of anxiety often are things that scare us.
The best thing we can do to fight against the pull of fear and anxiety in our lives is to lay our burdens at the feet of Jesus in prayer and to seek encouragement through God's inspired word.
If you're anything like me, you like to know what's coming and to be prepared. As Christians, we can prepare even if we don't know what is going to happen because we know God has the future in his hands.
RELATED: How to Battle Fear & Anxiety As A Christian Woman
So, here are 35 powerful Bible verses on anxiety and fear.
Bible Verses On Anxiety
Anxiety is defined as "a feeling of worry, nervousness, or unease, typically about an imminent event or something with an uncertain outcome."
I pray these Bible verses encourage your anxious heart and help you to put your trust in the One who holds the world in his hands. He loves you and cares for the worries in your heart.
Proverbs 12:25
Anxiety in a man's heart weighs him down, but a good word makes him glad.
Matthew 11:28-30
"Come to me, all you who are weary and burdened, and I will give you rest. Take my yoke upon you and learn from me, for I am gentle and humble in heart, and you will find rest for your souls. For my yoke is easy and my burden is light."
Psalm 55:22
Cast your cares on the LORD and he will sustain you; he will never let the righteous be shaken.
Isaiah 58:11
The LORD will guide you always; he will satisfy your needs in a sun-scorched land and will strengthen your frame. You will be like a well-watered garden, like a spring whose waters never fail.
Jeremiah 17:8
They will be like a tree planted by the water that sends out its roots by the stream. It does not fear when heat comes; its leaves are always green. It has no worries in a year of drought and never fails to bear fruit."
Luke 12:24-34
Consider the ravens: They do not sow or reap, they have no storeroom or barn, yet God feeds them. And how much more valuable you are than birds! Who of you by worrying can add a single hour to your life? Since you cannot do this very little thing, why do you worry about the rest?
Philippians 4:6-7
Do not be anxious about anything, but in every situation, by prayer and petition, with thanksgiving, present your requests to God. And the peace of God, which transcends all understanding, will guard your hearts and your minds in Christ Jesus.
Hebrews 13:5-6
Keep your lives free from the love of money and be content with what you have, because God has said, "Never will I leave you; never will I forsake you." So we say with confidence, "The Lord is my helper; I will not be afraid. What can mere mortals do to me?"
Philippians 4:10-13
I rejoiced in the Lord greatly that now at length you have revived your concern for me. You were indeed concerned for me, but you had no opportunity. Not that I am speaking of being in need, for I have learned in whatever situation I am to be content. I know how to be brought low, and I know how to abound. In any and every circumstance, I have learned the secret of facing plenty and hunger, abundance, and need. I can do all things through him who strengthens me.
1 Peter 5:6-7
Humble yourselves, therefore, under the mighty hand of God so that at the proper time he may exalt you, casting all your anxieties on him, because he cares for you.
Luke 12:29-30
And do not set your heart on what you will eat or drink; do not worry about it. For the pagan world runs after all such things, and your Father knows that you need them. But seek his kingdom, and these things will be given to you as well.
Proverbs 3: 5-6
Trust in the LORD with all your heart and lean not on your own understanding; in all your ways submit to him, and he will make your paths straight.
Isaiah 35:4
Say to those who have an anxious heart, "Be strong; fear not! Behold, your God will come with vengeance, with the recompense of God. He will come and save you.
Isaiah 40: 30-31
Even youths grow tired and weary, and young men stumble and fall; but those who hope in the Lord will renew their strength. They will soar on wings like eagles; they will run and not grow weary, they will walk and not be faint.
Ecclesiastes 3:1
There is a time for everything and a reason for every activity under the heavens.
Psalm 62:1-2
My soul finds rest in God alone, my salvation comes from Him, He alone is my rock and my salvation.
Psalm 94: 18-19
When I said, "My foot is slipping," your unfailing love, Lord, supported me.
When anxiety was great within me, your consolation brought me joy.
Matthew 6: 34
"Therefore do not be anxious about tomorrow, for tomorrow will be anxious for itself. Sufficient for the day is its own trouble.
Lamentations 3:22-24
The steadfast love of the Lord never ceases; his mercies never come to an end; they are new every morning; great is your faithfulness. "The Lord is my portion," says my soul, "therefore I will hope in him."
Matthew 6: 34
Therefore do not be anxious about tomorrow, for tomorrow will be anxious for itself. Sufficient for the day is its own trouble.
Bible Verses On Fear
Even the greatest Bible characters struggled with fear. It is absolutely natural to feel fear. We were created with survival instincts that tell us when we are unsafe. That is by God's design.
However, to be controlled by fear is not God's design for his children. We overcome our fear by placing our trust in the Lord and giving up control.
It is important to note that many of these verses are God giving encouragemnt to specific people that he has called to do something scary. Be encouraged that if He calls you, He also equips you. In any endeavor he has for you, he also walks with you.
Psalm 56:3
When I am afraid, I put my trust in you.
Psalm 23:4
Even though I walk through the darkest valley, I will fear no evil, for you are with me; your rod and your staff, they comfort me.
Isaiah 41:40
Don't be afraid, for I am with you. Don't be discouraged, for I am your God. I will strengthen you and help you. I will hold you up with my victorious right hand.
Joshua 1:9
This is my command – Be strong and courageous. Do not be afraid or discouraged. For the Lord your God is with you wherever you go.
Ephesians 6:11-12
Put on the whole armor of God, that you may be able to stand against the wiles of the devil. For we do not wrestle against flesh and blood, but against principalities, against powers, against the rulers of the darkness of this age, against spiritual hosts of wickedness in the heavenly places.
Psalm 118:6-9
The Lord is on my side; lI will not fear. What can man do to me? The Lord is on my side as my helper; I shall look in triumph on those who hate me. It is better to take refuge in the Lord than to trust in man. It is better to take refuge in the Lord than to trust in princes.
Lamentations 3:22-24
The steadfast love of the Lord never ceases; his mercies never come to an end; they are new every morning; great is your faithfulness. "The Lord is my portion," says my soul, "therefore I will hope in him."
John 14:27
Peace I leave with you; my peace I give to you. Not as the world gives do I give to you. Let not your hearts be troubled, neither let them be afraid.
1 John 4:18
There is no fear in love, but perfect love casts out fear. For fear has to do with punishment, and whoever fears has not been perfected in love.
2 Timothy 1:7
for God gave us a spirit not of fear but of power and love and self-control.
Psalm 34:4
I sought the Lord, and he answered me; He delivered me from all my fears.
Romans 8:15
For you did not receive the spirit of slavery to fall back into fear, but you have received the Spirit of adoption as sons, by whom we cry, "Abba! Father!"
Matthew 10:28
And do not fear those who kill the body but cannot kill the soul. Rather fear him who can destroy both soul and body in hell.
Psalm 27:3
Though an army besiege me, my heart will not fear; though war break out against me, even then I will be confident.
Isaiah 43:2
When you pass through the waters, I will be with you; and through the rivers, they shall not overwhelm you; when you walk through fire you shall not be burned, and the flame shall not consume you.
I pray these verses are an encouragement to you friend.
Your Sister In Christ,