By John Bevere
How many times is Fear mentioned in the Bible? Depending on the translation you search, the NIV Bible tells us—about 350 times—and "fear not" is in almost 175 verses in the KJV Bible. The NKJV encourages us to "fear God" 134 times. We recommend that you find what the Bible says about fear, and read below how, as John Bevere explains, there is a difference between destructive fear and the virtue of fearing God, which helps us become closer to God.
In the summer of 1994, I was asked to minister for a church conference in the Southeastern United States. At the time, I was on a journey to discover holy fear. I strongly sensed the need to lay aside this apprehension and minister on the fear of the Lord in the first evening session.
The next evening after worship the head pastor took the platform for what I assumed would be a routine introduction, but this wasn't the case. For fifteen minutes he corrected what I had spoken about the previous evening. He confidently stated, "The fear of the Lord only applies to Old Testament times, but as Christians, we've not been given 'a spirit of fear,'" referencing 2 Timothy 1:7.
He continued, "We are told in the New Testament, 'There is no fear in love; but perfect love casts out fear' (1 John 4:18 NKJV). So, what John taught last evening is error, and I want to protect you from it." His elaborate correction of my message continued for several more minutes.
Once he finished, to my surprise, he introduced me to the platform to minister. I still remember walking up and thinking to myself, How can I minister to these people after what he just did? This can't be happening.
Is There Such a Thing as "Holy Fear"?
The next morning I prayed earnestly, anticipating God's correction. With sincerity, I asked, "Lord, have I hurt Your church? Have I taught something untrue? Am I putting Your people in bondage?"
I continued for quite some time, and as I prayed, what I uttered began to change. I didn't sense God's dissatisfaction but rather His pleasure in what I had done. He began to bring to my remembrance numerous scriptures in the New Testament regarding the fear of the Lord. In time I found myself no longer befuddled but now crying out in a loud, passionate voice, "Father, I want to know the fear of the Lord, I want to walk in it!"
The New Testament writers did write the words the pastor quoted, but they also penned other statements:
I could continue, but I hope you get the point: Holy fear is a New Testament truth. These are but a few of the scriptures the Lord brought to my heart as I prayed.
Contrasting Fears
I realized that morning the pastor had confused the "spirit of fear" with the "fear of the Lord." There is a huge difference, and it is illustrated by what took place when Moses led the nation of Israel to Mount Sinai to meet with God.
Once the entire nation arrives, Moses goes up for an initial private meeting. The Almighty reveals the purpose behind His powerful deliverance:
Thus you shall say to the house of Jacob, and tell the children of Israel:

"You have seen what I did to the Egyptians, and how I bore you on eagles'

wings and brought you to Myself." (Exodus 19:3–4 NKJV)
The chief reason for God's mighty deliverance was to gather all the people to Himself. He longed for them and desired a meeting so they could know Him as Moses did. However, three days later, when God comes down on the mountain to introduce Himself, the people respond by quickly retreating. In terror they cry out to Moses, "'You speak with us, and we will hear; but let not God speak with us, lest we die'" (Exodus 20:19 NKJV). In an attempt to console them, their leader replies, "'Do not fear; for God has come to test you, and that His fear may be before you, so that you may not sin'" (Exodus 20:20 NKJV).
At first glance it seems Moses contradicts himself: "Do not fear" because God has come "that His fear may be before you." Is he speaking out of both sides of his mouth? The answer is no. Moses is merely differentiating between being "scared of God" and having "the fear of the Lord." Again, there is a huge difference.
Someone who's scared of God has something to hide. Recall, in the garden, once Adam sinned, he and Eve hid from the presence of the Lord. Their reaction wasn't unique to them; similar behavioral responses exist throughout Scripture in those who venture into darkness.
However, the person who fears God has nothing to hide. He or she is terrified of being away from God. This is illustrated by the fact that while the people drew back, Moses simultaneously drew nearer to God.
Holy fear is not being scared of God and therefore withdrawing from Him. How can we enjoy intimacy with someone we're afraid of? Pulling away is the opposite of what He desires. In Psalms we read, "My heart has heard you say, 'Come and talk with me.' And my heart responds, 'Lord, I am coming'" (Psalm 27:8). Do you hear the call to intimacy? He desires for you to come close, to interact, laugh together, share together, and do life together. The psalmist also writes, "The Lord is a friend to those who fear him" (Psalm 25:14). The firm reality is this: God wants to be close and intimate with you. So rest assured, holy fear does not quench intimacy; it does just the opposite—it enhances our interaction with God.
_________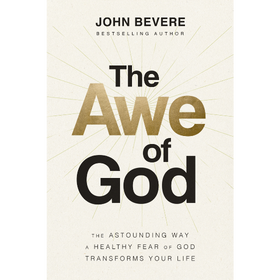 Adapted from The Awe of God: The Astounding Way a Healthy Fear of God Transforms Your Life by John Bevere. Click here to learn more about this book.
Do you long for an intimate relationship with your Creator, but He seems elusive? Perhaps it is because something utterly essential is missing—the fear of the Lord. Don't let this frighten you. Fearing God is very different than being afraid of God. It's the key to everything.
Holy Fear is not a topic you'll hear much about these days. But if you want to build a faith that stands strong through troubled times, you cannot afford to ignore this book.
In The Awe of God, John Bevere invites you to take a fresh look at what it means to work out your salvation with fear and trembling. This healthy, holy, and largely forgotten virtue is the uncommon path to a more fulfilled and fruitful life. In this book you will see why godly fear is the foundation of:
Wisdom, understanding, and knowledge
Foresight, clarity, and divine direction
Maturity and conformity to the image of Jesus Christ
Building an eternal legacy
Confidence, fearlessness, and security
Freedom from the fear of man as all lesser fears are eclipsed
If you look at the men and women in Scripture, the ones who lived and finish well all have one thing in common: they are marked by holy fear.
The Awe of God was designed to be read slowly and intentionally. At the end of each of the 42 chapters are five tools to help you deepen your understanding and apply what the Spirit of God is teaching you. Experience the intimate relationship with God that you have always longed for by unlocking this countercultural message.
John Bevere is a minister known for his bold, uncompromising approach to God's Word. He is also an international bestselling author who has written more than 20 books that have, collectively, sold millions of copies and been translated into 129 languages. Along with his wife, Lisa, John is the co-founder of Messenger International—a ministry committed to revolutionizing global discipleship. Driven by a passion to develop uncompromising followers of Christ, Messenger has given over 50 million translated resources to leaders across the globe, and to extend these efforts, the MessengerX app was developed, providing translated, digital discipleship resources at no cost to users in 118 languages and counting. MessengerX currently has users in over 19,000 cities and 228 nations. When John is home in Franklin, Tennessee, you'll find him loving on his g-babies, playing pickleball, or trying to convince Lisa to take up golf.
Looking for More?
Get a free Bible study tool from John Bevere! Click here to download John Bevere's 5-step guide to studying Scripture verses, adapted from The Awe of God.