In Britain's back gardens and alleyways, amid ancient woodlands and on coastal bluffs, in sunken lanes and deep in the velvety brown earth of our fields, lies hidden treasure. Coins, pottery, bone; a remarkable array of fragments each telling us something about the past. These may not be made from gold or silver, but they are precious beyond belief.
Until now, the 1996 Treasure Act has protected many of these priceless pieces of our past – but not all of them. According to the act, only those artefacts that are more than 300 years old and made of precious metals or are part of a collection of valuable objects need to be disclosed and offered for sale to a museum. Under this current definition of treasure, it's possible that untold numbers of fascinating finds slip back into the shadows as soon as they come to light.
But, as I write, parliament is considering proposals to expand this definition to protect objects more than 200 years old, regardless of their type of metal. Not only would this prevent many artefacts being sold into private collections, but it would also mean that thousands more, whether unearthed by metal detectorists or happened upon by pure chance, could be saved for the nation.
This is a welcome change. For museums all over the country to have the chance to acquire and share more historical objects is a positive step. It will offer the opportunity to keep these items as part of our shared heritage, where they can really resonate. It means that together, across our country's museums and heritage sites, we can join more of the dots, connecting the big set-piece moments in history – well-rehearsed in our consciousness – to the long forgotten, more personal, everyday memories of lives lived.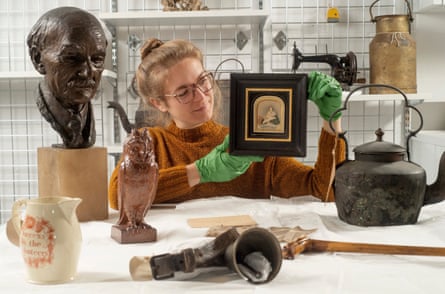 Of course, it's thrilling to think about treasure in the traditional sense, the trappings of wealth and status, exquisitely crafted, beautiful things, made of precious metals and jewels. It's the stuff of fairy tales. And there's no doubt that the magpie in all of us will for ever be drawn to exciting shiny objects: like the exquisite gold pendant linked to Henry VIII that was recently found by a detectorist in a Warwickshire field. But I think it's time to think about treasure in a different way.
Every family has its own treasures. And while a few might have the good fortune to star on Antiques Roadshow with a staggering valuation, most "heirlooms" are not in that league of monetary value. And yet, they remain priceless to us.
That's because what's so special about history is its people. From a Neolithic fingerprint on an antler pick, to fragments of Roman pottery with food remains still visible, the imprint of dog paws in 2,000-year-old tiles, a broken pair of spectacles that belonged to a medieval monk, and the poignant lock of hair from a child – the echoes of those who have gone before resound all around us, just waiting to be heard. Aren't these all treasures too? They open a door to the past and invite us in. We can all imagine the annoyance that the dog's just walked on our nice new floor; the satisfaction of a good hot meal at the end of a long day; the frustration when we lose our specs; or the grief at a loved one taken too soon.
We can reach people from the past this way, and that is valuable. As Alan Bennett said of reading, so it is of these objects – they have been "set down by someone else, a person you have never met, someone even who is long dead. And it is as if a hand has come out and taken yours."
It's not just the legal definition of treasure that should change, but also our own. Everyday objects from the past tell us about real lives lived, about those people whose fingers may not have been adorned by gold rings, but whose stories are to be treasured nonetheless. In doing so, we can enrich our own lives beyond our imagination – and that is treasure worth far more than its weight in gold.