The proposed appointment of Sue Gray by Keir Starmer, to his chief of staff, is a smart move for three reasons. First, the preparations for government by Labour need to start now. An election may still be over a year away, but there is an enormous amount of work to be done if the party is to hit the ground running. Well before the election comes, Labour will need to have a very clear idea of what it wants to do and how it wants to do it. This is a vital appointment that can't wait. Having someone who really knows how government works from the inside will be enormously valuable.
Second, the chief of staff job requires someone with both great political understanding and strong organisational capability. It is not a surprise, therefore, that two previous holders of the role – Jonathan Powell for Tony Blair and Ed Llewellyn for David Cameron – were former diplomats in the civil service. If you are going to go for an experienced senior civil servant, it is hard to think of anyone better placed to do this than Gray.
Third, but perhaps most important, are Gray's qualities. As someone who has worked closely with her, I can vouch for her toughness, humanity, commitment and ability to carry people with her on the difficult issues. These are all essential ingredients for one of the most demanding jobs in government or opposition.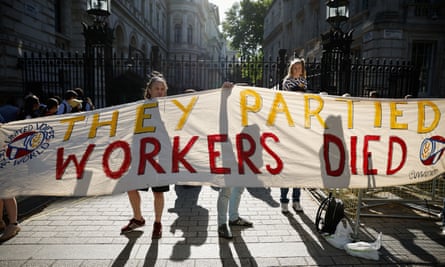 If the appointment makes sense, what about the propriety? Does it undermine the impartiality of the civil service? Well, as with all external appointments for senior civil servants, it will need to go through the normal approval process by the Advisory Committee on Business Appointments (Acoba). However, in my view, the accusations by some MPs and commentators that her appointment undermines the perception of civil service neutrality, or even the validity of the Partygate inquiry she authored, are very wide of the mark.
Gray has been chosen for the skill and insights she brings to help Labour going forward, not for what secrets she might know about the current or previous governments. In her role as head of ethics and propriety, she acted with enormous diligence, integrity and professionalism, earning her the trust of successive prime ministers and ministers, even when she was giving them some very difficult messages. It is very hard to imagine her departing from those principles now. There are plenty of examples of civil servants who have moved directly into political roles without any suggestion of impropriety.
The notion that Gray was part of a "stitch-up" of Boris Johnson and his government through her role in leading the Partygate inquiry is patently absurd. Sue had left her ethics role to work in Michael Gove's department when the inquiry began, and took on the lead role only when the cabinet secretary, Simon Case, recused himself from the role. At that time, there was no vacancy for Labour's chief of staff role.
Gray's report was hard hitting but scrupulously fair, and indeed the prime minister argued when it was published that he had been exonerated by it. Conspiracy theorists should not waste time looking any further. The prime suspect for the Johnson government's demise is Boris Johnson.
I sincerely hope that this storm will pass and that Acoba and the prime minister will allow the appointment to go through with the normal safeguards of a three-month gap and a two-year ban on lobbying government (not a likely prospect for this role). It is in the interests of the country, not just Labour, that the opposition is fully ready and prepared to take up the reins of power should it be elected next year.