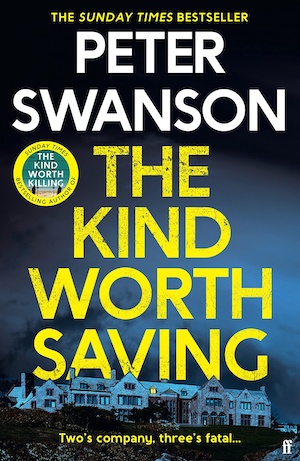 Peter Swanson is well known for complex and clever plotting that's designed to keep readers guessing. It was shown off to dazzling effect in The Kind Worth Killing, which came out in 2015 and sold by the truckload. Its follow-up made CFL's Most Wanted List for 2023 – after all this time, could The Kind Worth Saving live up to what had gone before?
Well, yes and no. On the plus side, readers of the first book will be delighted to see the return of Lily Kintner, who took centre stage back then. Also making a comeback is Henry Kimball, who was more of a minor player first time around, but as The Kind Worth Saving begins he's in the limelight.
Former high school teacher-turned police officer-turned private eye, Henry is surprised when a former pupil comes to his office and asks him to do some surveillance on her husband. Joan Whalen (nee Grieve) thinks her other half is cheating and wants Henry to get to the truth, no matter how much it costs. Henry and Joan have a shared history – they were both witnesses when the school loner killed another pupil in English class and then turned the gun on himself. The trauma of that experience led Henry to leave teaching and go into law enforcement, until an equally dramatic encounter with Lily Kintner had him reevaluating his life and finding yet another new career.
Life in Massachusetts should be a lot more peaceful for Henry these days, but his snooping on Richard Whalen comes to an abrupt end when he finds the cheating husband and the man's mistress dead in an apparent murder-suicide. Or… could it be just plain murder? It gives the investigator a sense of deja vu, and something else… Henry's gut tells him things aren't as cut and dried as they might first appear.
Henry isn't the only one with feelings of deja vu at this point, because as things progress there are several elements here that feel a little like reworked sections of The Kind Worth Killing. As a result, some of the plot progressions seems rather familiar – although after eight years, the details may feel a bit hazy.
One bonus to The Kind Worth Saving is the reappearance of Lily, albeit well into the book. She's now living a quiet existence with her father and his partner and she is a tad surprised when Henry comes a-calling. He needs to share his suspicions with someone, and Lily is just the girl. The sections where Henry and Lily are together are definitely the best parts of this novel and add some much needed spark. Their chemistry is entertaining and well-drawn, and when Lily forges off on her own the resulting scenes and situations are vintage Swanson too.
The jury is out as to whether you need to read book one before tackling what the author is calling a semi-sequel. Yes, it might help to know some of the backstory before starting book two, but that nagging feleing of having read it before will not apply to readers whoo straight to The Kind Worth Saving, so take your pick.
I really wanted to like this book and throw myself into it, but there were some developments that had me rolling my eyes in disbelief. There's also a strange ebb and flow in the characterisations that hampers a fuller engagement, with some of the plot teetering on the edge of farce. To top that all off, there's the distinct impression that the author may be toying with a third bite at this particular cherry. On this showing, I'm not sure that's such a good idea…
For more crime set in Massachusetts, try Death on a Winter Stroll by Francine Mathews.
Faber and Faber
Print/Kindle/iBook
£5.99
CFL Rating: 3 Stars