The Easter season is such a unique time of the year for the Church. Studies show that more people are likely to fill your seats now than any other time of the year. Because of this, it's common to see churches everywhere working diligently in preparation for the coming crowds at their Resurrection Day services.
As the big day approaches fast, we've prepared 6 last-minute ideas to take your Easter service to the next level. Don't worry—they are quick and easy to pull off.
1. Start Service With A Fresh Countdown Video
Countdown timers make it easy to let your congregation know that it's time to find a seat as your service begins. This proves useful for your regulars and newcomers alike. Pro Tip: Choose a countdown video that matches all of your other worship visuals for the rest of the service.


See More Easter Countdown Videos
2. Use A Creative Sermon Slide Design
A message from the Bible where your guests hear about Jesus rising from the dead is the most important part of an Easter service. Make a big impression with your screens by using a captivating sermon title graphic. A creative Resurrection Day graphic will take your presentation to the next level by making it easier for your audience to remember your message. Check out our full library of editable Easter templates to make it easy.

See More Easter Slide Templates
3. Serve Spring-Themed Treats
Having breakfast available before service is a great way to build community and have some fun in the lobby with your church family. For Easter, take it to the next level by serving some Spring-themed donuts or baked goods. It's a sweet surprise for your faithful attenders and new guests alike. You could even add in lemonade or sweet tea. The cost for something like this is relatively small compared to the value that it adds to the day.
4. Play An Easter Mini-Movie
Easter is the perfect time to add a special element to your service that will give people something extra to remember. Using a mini-movie can really speak to the hearts of your audience. A video like this is a great way to communicate a message of what's truly important about this day, and it will leave people talking about the service into their week.
See This Easter Mini-Movie & More
5. Take A Easter-Themed Poll
Now is the perfect time to be more intentional with your church's social media pages. Post poll questions, such as asking what their favorite Easter candy is. You'll be amazed by how much conversation these types of posts generate. Then, take time during the welcome portion of your service or in the beginning of the sermon to reveal some of those answers. This is an exciting way to interact with your congregation and to have some fun. We've put together some Easter social graphics to help make this easier for you.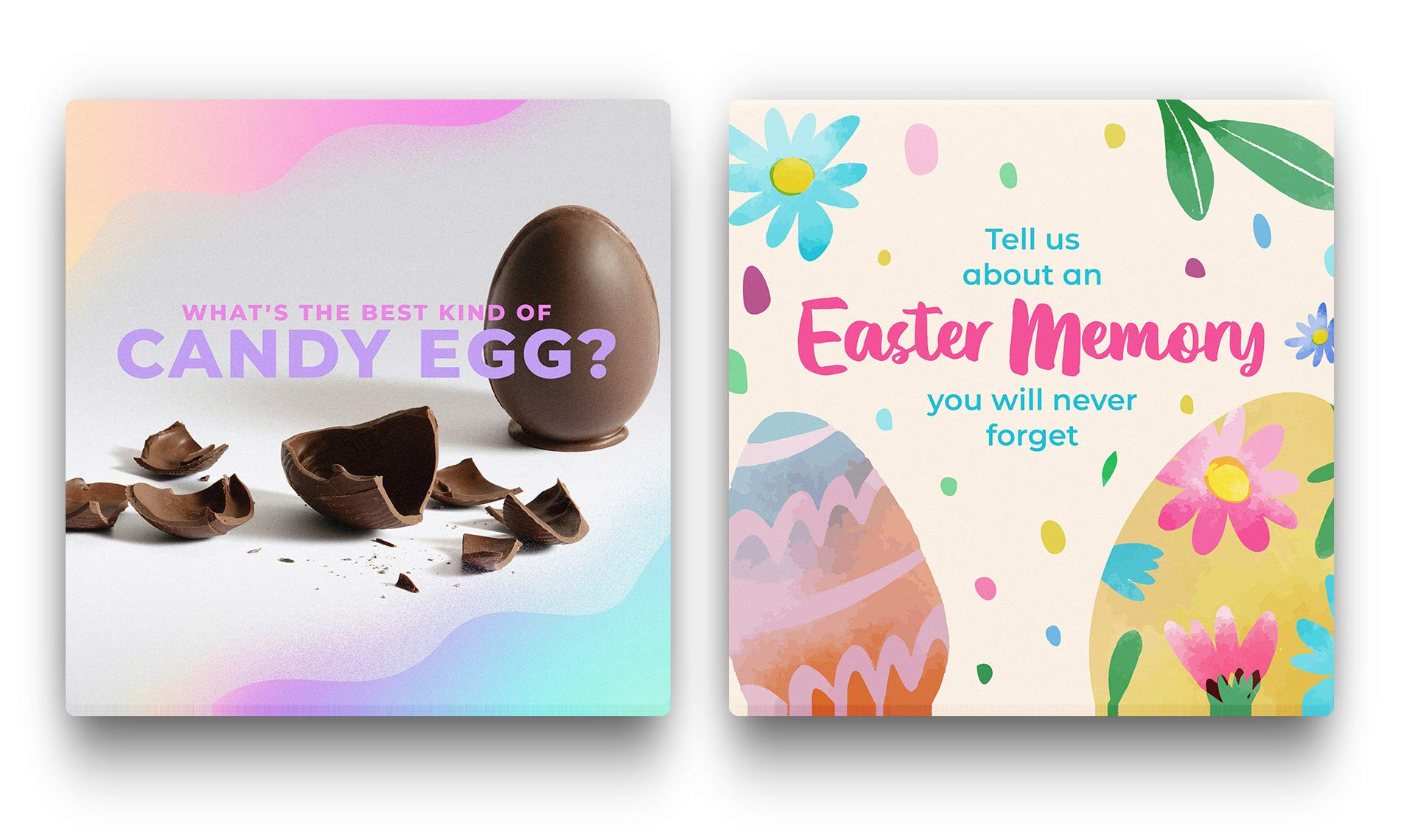 See More Easter Social Graphics
6. Update Your Worship Backgrounds
Motion backgrounds are the perfect way to create a dynamic visual experience during your church's worship songs. They bring creativity to an otherwise boring aspect of your service – plain text. For an Easter service, it's best to have backgrounds that go with a Spring aesthetic and point to Christian symbols. Church Motion Graphics is your Easter background headquarters! We have many packs of matching motions to help you create a great look.

Ready to give your worship slides that special Easter look? Click below to see more of our new motion packs that are ready to make your church's screens come alive.