Did Air Miles go bankrupt in Canada?
Less than a day after word got out that Loyalty Ventures Inc., the U.S. parent company of the Air Miles Reward Program, was preparing to file for bankruptcy, BMO Financial Group stepped up to acquire the program, at a cost of USD$160 million.
We are excited to share that BMO, our anchor partner, has announced its intention to acquire AIR MILES, the leading loyalty program, subject to court approval. To read more about this news visit https://t.co/BMXunXuJql.

— AIR MILES Reward Program (@AIRMILES) March 10, 2023
Does Air Miles still exist? Can you redeem the rewards?
Yes, Air Miles is still around, and it should be for a while yet, thanks to BMO. "As a founding partner of the Air Miles program since 1992, BMO is well positioned to strengthen and grow Canada's most recognized loyalty program," according to a BMO statement issued on the morning of March 10. (The acquisition is still subject to court and regulatory approval.)
For several hours between March 9 and the official announcements from BMO and Loyalty Ventures on the morning of March 10, collectors were in the dark about the fate of their Air Miles. Twitter and Reddit users urged each other to cash in their miles ASAP. However, for many collectors, the webpages where they usually redeem their Air Miles for "eVouchers" (digital gift cards) and merchandise returned only server errors. Visitors were also unable to view claimed vouchers in their accounts. Eventually, the error messages were replaced with a generic note about scheduled maintenance.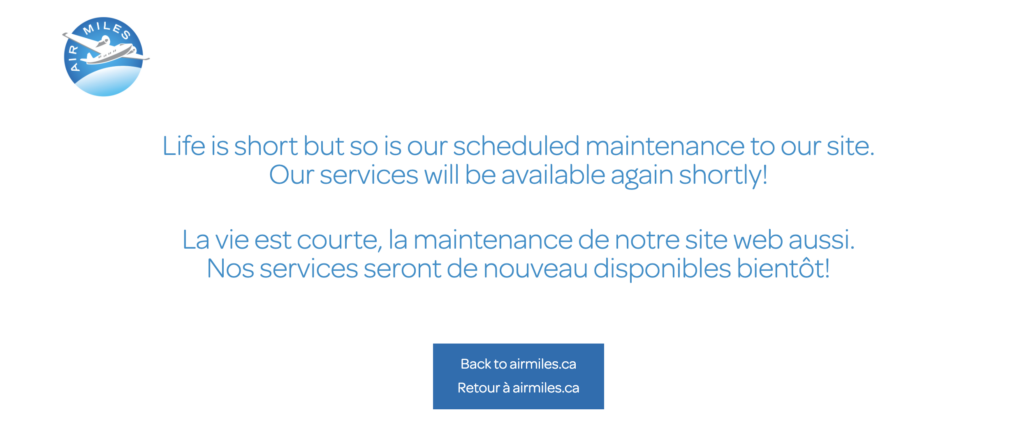 At 9:40 a.m. on March 10, Air Miles tweeted that its redemption site was up and running, which we've confirmed. The same day, a message added to the Air Miles home page announced BMO's intention to acquire the program and reassured visitors that the process "will not affect collectors' reward miles balances or their ability to collect and redeem Air Miles reward miles." 
Liquidated 33000 @airmiles yesterday due to imminent bankruptcy. Now BMO is stepping in to save #airmiles. What to do. I have up to 24hrs to cancel my orders and keep my "dream miles"

— Mike van der Velden (@mikevdvelden) March 10, 2023
What happened to Air Miles
Air Miles is one of the country's largest loyalty programs—its 10 million accounts represent nearly two-thirds of Canadian households. Collectors earn reward miles at a wide variety of retailers and through credit and debit cards, and they can be redeemed for merchandise, travel, entertainment and a range of vouchers for brands like Gap, Decathlon, H&M, The Source and a selection of restaurants. Collectors can also redeem Air Miles for cash rewards at in-store partners such as Metro and Shell. (Partners vary by province or territory.) 
It's unclear what changes we'll see, if any, to standalone Air Miles cards, but BMO has offered Air Miles credit cards for many years—2022 was the 30th anniversary of its partnership with the program. And the bank stated that the proposed acquisition "would be a made-in-Canada opportunity to enable a reinvigoration for one of Canada's largest loyalty programs."
That reinvigoration is sorely needed. The Air Miles program has suffered setbacks in the past two years, notably the departure of major retailers in the summer of 2022: Staples and Empire Co. Ltd.—owner of the Sobeys and Safeway supermarket chains. Staples now offers its own loyalty program, and Empire became a co-owner of the Scene+ program. In 2021, the Liquor Control Board of Ontario (LCBO) also left Air Miles, but to work with Air Miles' competitor Aeroplan. Lowe's Canada also left in 2021; it joined RBC's Avion Rewards program in September 2022.