Published on 8 March 2023




3 minutes read


Two trainee ministers have spoken about their deep passion for "souls and goals" to mark International Women's Day.
Dawn Westwood is the chaplain at Livingston Women's Football Club and Jillian Storrie is the chaplain at Hamilton Academical Women's Football Club.
They said it is a "privilege" to offer pastoral support – concern for mental, emotional and spiritual wellbeing – to everybody involved in the clubs, not just players.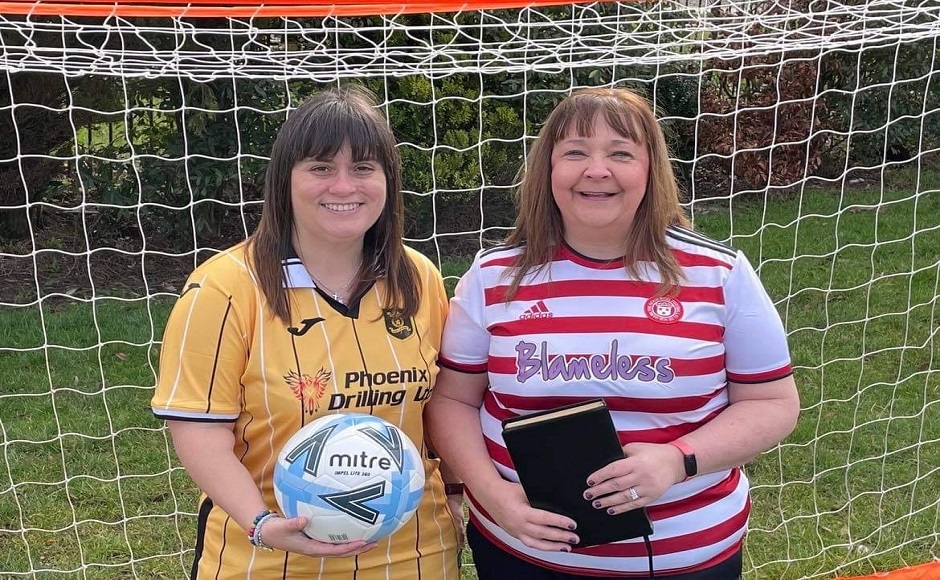 True believers in football and faith, the two friends are always happy to discuss Christianity if asked but mostly they share the fruits of the Holy Spirit by showing patience, kindness, goodness, comfort, guidance, and gentleness.
The pair were assigned to their respective clubs by Sports Chaplaincy Scotland which is determined to ensure that women's football has the same support structures as the men's game.
With around 130 chaplains supporting different levels of football clubs in Scotland, Mrs Westwood and Mrs Storrie see the role as something Jesus would do, going out and about into different and sometimes unlikely settings and engaging with people.
"Football is something that I have been interested in all my life, said Mrs Westwood who is in her final year at Highland Theological College in Dingwall and currently serving with Greyfriars Parish Church in Lanark, South Lanarkshire.
"I enjoyed playing it and watching it, following Glasgow Rangers.
"This love of football has continued within our family as my oldest daughter Eilidh plays for our local girls' team.
"Sports Chaplaincy Scotland gives chaplains a real opportunity to come alongside people doing something they love, enabling them to meet people where they are.
"It is a unique role and I feel it is another way to see God in the ordinary places of life, reaching outwith the doors of the Church on a Sunday morning.
"My role is for anyone within the team – I am an impartial voice and there to lend a listening ear and a safe and trusted space to talk."
Fruits of Holy Spirit
Mrs Westwood, a mother of three from Bathgate in West Lothian, said the coaches, management and players have warmly welcomed her and they made her feel part of the club very quickly.
"As a team, Livingston WFC recognises the importance of equality within the game, as many of the male teams have chaplains and it is only right that the women's teams are given the same support," she explained.
"Football and faith, sharing the Gospel beside the goals, what's not to love?"
Mrs Storrie of Stonehouse, South Lanarkshire is currently doing her ministry probation at St John's Parish Church in Hamilton.
The mother of three graduated from Highland Theological College with a BA in Theology last year.
Mrs Storrie said: "I have always been interested in football and in the early 90s I had a season ticket for Ibrox, although I have to say this was mainly because of my 'love' for Ally McCoist.
"I see my role as providing pastoral and spiritual care, by permission, to those with faith or no faith.
"I provide a listening ear and a kind heart, meeting people where they are in their lives and providing support when needed.
"My role is not that of effecting the team's performance but to positively impact the personal lives of those I meet by building relationships and being a presence."
Relationship building
The chaplains are not employed by the clubs and are volunteers through Sports Chaplaincy Scotland, which means that they remain neutral when it comes to business decisions.
"I see the role of chaplaincy as a valuable part of my ministry, I am very much an advocate, that as a Church, we need to go out into communities where the people are," explained Mrs Storrie.
"I train at least one night a week with the team and attend home games and, depending on distance, manage to go to some away games.
"When I am at the football games, I come into contact with the team members' families and friends and relationships are formed with them too."
Mrs Storrie said she loves her role and looks forward to training sessions and games.
"My family, friends and colleagues have commented on 'how my face lights up' when I talk about my work," she added.
"Everyone has made me feel very welcome and I've even bought a pair of football boots and hope to join in with pre-training warm ups soon."